Testing The Trainers: Joe Dowdell
It's been a while since I've written a Testing The Trainers, where I review a popular fitness guru or celebrity trainer and give you my honest opinion about whether you should follow their tips and suggestions – or not!
But last week I had the opportunity to hear trainer Joe Dowdell speak at the Reebok/Fitness Magazine bloggers conference in NYC and some of the things he said made me want to find out more about what he stands for.
So let's see what Joe is all about.
Program Shakedown
First of all let me first say Joe has quite an impressive list of credentials. His education and dedication to learning about the human body and how it functions is a clear demonstration of his passion for fitness. Of course he's trained celebrities, pro athletes, has appeared on TV shows, authored several books and writes for many fitness magazines like other celebrity trainers. And that's all well and good but what does it mean to you?
Here's what I say about Joe – he's a no nonsense kid of guy, period. While listening to him at the conference he brought to light some very common misconceptions. For one, he said, "you can't out-train your diet", meaning if you eat too much no matter how hard you workout you'll still gain weight. He also addressed the "long and lean" myth, referring to exercises that supposedly create this look. Ultimately, you can't change a muscle's length or where it inserts. And probably key for me to hear was when Joe said that sleep and diet are MOST important in your health and fitness regimen and that in order of importance exercise comes last.
Joe isn't a 'sit-you-on-a- machine' kind of trainer and he uses functional training heavily as part of his training regimens. One look at the equipment in his 10,000 square foot Peak Performance facility and you'll know the training is all about improving your health and performance, not just about making you look good. And when Joe was asked if he thinks women and men should train differently, he said NO. Finally! I'm always telling people that I have people exercises, not gender exercises, and that both sexes should train similarly (to be fair Joe does differentiate between programs that focus on fat loss or muscle gain).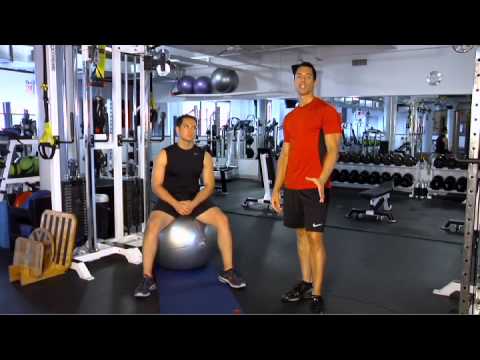 Conclusion
 You never know when or how the fitness bug will bite. Joe was actually a model who became interested in personal training years ago when he had some conversation with his girlfriend's trainer. Fast forward to now and he's authored numerous books, trained celebrities such as Claire Danes, Natalie Portman, Eva Mendes, Gerard Butler, Jimmy Fallon and numerous models gracing the pages of Victoria Secret Catalog and Sports Illustrated Swimsuit issues. Not too shabby. And Men's Health magazine voted his gym one of the Top 10 in America.
Honestly I was ecstatic searching all of the available interviews and clips of Joe and a little surprised that I hadn't already been following him. He's a wealth of knowledge and expertise and I agree with nearly everything he says. It's awesome to see someone who's held to such a high level actually back up the hype. When you listen to Joe speak or read what he says you'll know he's not just going to give you a typical cookie cutter answer. He's part of the solution in this industry for sure! So check him out!
When it comes to Joe Dowdell, The Angry Trainer says Highly Recommeded!
All information contained within this site, Angry Trainer Fitness.com, is for informational purposes only.  It is not intended to diagnose, treat, cure, or prevent any health problem – nor is it intended to replace the advice of a physician.  No action should be taken solely on the contents of this website.  Always consult your physician or qualified health professional on any matters regarding your health or on any opinions expressed within this website. Please see your physician before changing your diet, starting an exercise program, or taking any supplements of any kind.
No comments yet.
No trackbacks yet.
about 6 months ago - 1 comment
This past Friday I spent the day at Reebok Headquarters in Canton Massachusetts and man am I excited to share my experience! This is my second time traveling to Reebok country as about 2 months ago I attended a Crossfit Level 1 certification at Reebok CrossFit One – there'll be more on that later –…