VIDEO: Angry Trainer Chat – Cardio Questions
Everyone knows that cardiovascular exercise is a key requirement for optimal health. But so many people are confused when it comes to the Cardio Question? Should you run, row, box, swim? Is slow to moderate better for fat burning or is high intensity interval training where it's at? And how do you juggle cardio with weights, yoga or classes?
Truthfully I have to tell you the main reason so many people are confused is because they don't actually know how the cardiovascular system operates and what aerobic exercise is! So for this week's Ustream Chat I decided to tackle this long-standing fitness issue with a little Angry Trainer wisdom…
If you've been going through the motions and not sure about which mode of cardio is best, then this chat is for you. So watch, listen and let me know if my advice helps you understand the world of cardio a little better.
Don't forget every Tuesday at 9PM EST I'll be back with another Ustream Chat, to talk more fitness and health and answer your questions. So join me next week – I'll be announcing the topic soon.
And if you can't make it, simply head to my YouTube channel and watch all of my chats there – don't say we don't spoil you here at Angry Trainer Fitness!  And of course – don't forget to subscribe if you haven't already.
Enjoy – and I'll see you LIVE next Tuesday at 9!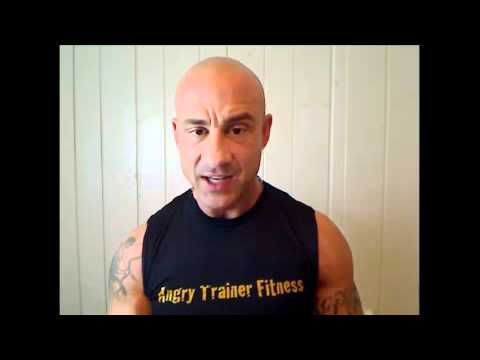 All information contained within this site, Angry Trainer Fitness.com, is for informational purposes only.  It is not intended to diagnose, treat, cure, or prevent any health problem – nor is it intended to replace the advice of a physician.  No action should be taken solely on the contents of this website.  Always consult your physician or qualified health professional on any matters regarding your health or on any opinions expressed within this website. Please see your physician before changing your diet, starting an exercise program, or taking any supplements of any kind.
No trackbacks yet.
about 8 months ago - 11 comments
When it comes to reaching their health and fitness goals, many trainees never realize their potential because they just can't seem to get their diet in check. And it seems like every other week there's a new incredible weight loss regime to try, most of which just leave their users frustrated – and unfit! So…