Testing The Trainers: Turbulence Training
It's been quite a while since I've reviewed one of the many fitness gurus out there – and their 'miraculous' programs. So today it's time for another Testing The Trainers.
Up this week Turbulence Training – a program I've known about for a while now. Turns out that the guy who created Turbulence has some darn good credentials. His name's Craig Ballantyne and he's written numerous articles for leading fitness publications and is a C.S.C.S – Certified Strength and Conditioning Specialist.
But the real question is – is Turbulence Training any good? Here's my Angry Trainer take…
Program Shakedown
Craig says he's a world renowned C.S.C.S and an author of  "too many articles to count" in major fitness mags. He also claims that Turbulence Training is a revolutionary way of getting in shape, allowing users to build muscle and scorch fat in just 50 minutes per day, 3 days a week. Sounds perfect for those of us with busy lives…
Here's Craig in action: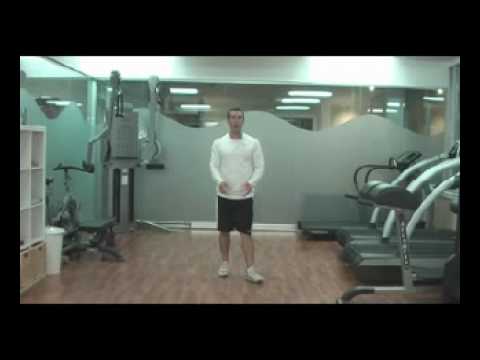 Turbulence training consists of circuit style workouts that involve a lot of bodyweight exercises, resistance bands, a little dumbbell work and interval cardio sessions. After watching a few of the Turbulence videos, it appears that Craig seems to recommend varying your workouts, alternating upper body with lower body, and using bikes and treadmills to amp up your metabolism and burn fat fast. Some workouts emphasize bodyweight exercises, while others are more geared towards strength training with dumbbells.
Craig says he's studied numerous research papers and used his thousands of hours in the gym, to create 'The Most Effective And Time-Efficient Fat Loss System In The World". Apparently Craig was an athlete and needed to find a way to maintain his mass without spending hours upon hours in the gym. After realizing that the old ways of doing things were outdated, he created his 'unique' system – 50 minute workouts, just 3 times a week – enough to get you lean, build muscle and be in the best shape of your life.
Craig argues that high reps don't burn fat and believes that 8 rep sets are best to rev the metabolism and burn fat. In fact he sites a study in which women burned more calories using 8 reps versus 12 as a basis for his theory (more on that later).
Okay, so how much for this amazing ground breaking program? Turns out $40 bucks will get you the book – yep, a book. No DVD's, no workouts to follow along with, no razzle dazzle. A book.
Conclusion
I'm sorry, but unless you've been living under a rock for the last 10 years, there's nothing revolutionary about Turbulence training – at all. I'm not saying that it's not a good program, but for Ballantyne to make it sound as though his creation is cutting edge is nonsense in my opinion.
Much of what Craig talks about and the myths he dispels are true, but if you've been in or around the industry for any length of time, you'll already know 99% of what he says. It's like me telling everyone that the Grapefruit Diet doesn't work. See my point? Plus you have to remember that Craig comes from an athletic background, which is why he has the body he does. In my opinion, his physique was built on years of athletics and time spent in the weight room. Sure, he may maintain it now using his Turbulence system, but I don't believe he built it that way.
Also, I've got to be honest here – I find Ballantyne pretty boring to watch and his exercise demos put me to sleep. I DO think that working out for 50 minutes, 3 times a week is pretty good, but where's the intensity, sweat, motivation and overall enthusiasm? With the likes of Zuzana, Tony Horton and even yours truly out there on You Tube I'm not sure Craig is engaging enough for viewers.
Plus, remember how on the Turbulence website Craig says 8 reps are best, even better than 12 for fat loss and muscle gain? Well in the YouTube video above, he suggests using 12 and 15 reps! So much for sticking to the plan huh?
Look, the foundations of Turbulence training are solid, the exercises are good, and the circuit structure and interval protocols work too. BUT, it's nothing new and for what you get – a book, I'd personally recommend P90X, Insanity or some of the other truly innovative programs available instead.
The Angry Trainer says:  Cutting Edge – 10 years ago! Save your money.
No trackbacks yet.
about 4 months ago - No comments
  Twitter is a truly miraculous invention which for me rivals planes, trains and automobiles in the way it's advanced our ability to meet people from all over the world. Today's Testing The Trainers concerns Ashley Borden , a training powerhouse who I met recently while online. I'd heard about Ashley before and so was…