Infomercial Insanity: Bowflex
It's time for another installment of Infomercial Insanity, where I review a popular fitness product and give you the pros and cons of each piece of equipment. Today it's the Bowflex, the famous workout system that promises to train your whole body.
But is the Bowflex worth its price tag and will you get results? Here's the Angry Trainer take…
Product Pitch
Like all fitness commercials, the Bowflex uses hard-bodied men and women in their ads to demonstrate its effectiveness. In the early days, the infomercial only featured models, but now they've started using actual users of the equipment who give real world testimonials.
The Bowflex name itself is derived from the equipment's source of resistance known as power rods. They are a series of rods in the rear of the unit, placed next to each other that get thicker in succession, and when bent (by being pulled upon) provide a continuous resistance. They also contribute to the original Bowflex's unique look.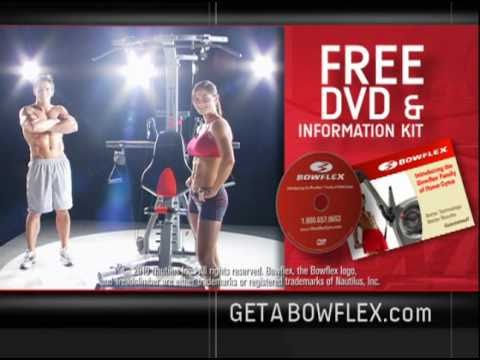 So what's the pitch? It's quite simple – workout in your house using the Bowflex, supplied exercise program and one of the thousands of exercise variations and you'll get in shape. As usual the workouts are coupled with a supplied eating plan and simplicity is key; simply unhook the cable from the rods to add more or less resistance. The Bowflex allows users to train every muscle in their body, with traditional exercises, some functional moves, and unlike other "machines", the weight isn't on a set guided path, allowing a sort of 'free weights' movement.
This review is of the original Bowflex as I believe it's the most widely recognized product in their line. However they have many forms of equipment, from adjustable dumbbells, to cardio equipment and new breeds of strength training equipment with resistance technology called Spira Flex. Either way, they've got the home exercise market locked down. Bowflex is widely available on Amazon and in stores and costs around $800 for the original model, with the newer pieces in the $1,400 price range.
The Angry Trainer Says:
Honestly, I like the Bowflex and I'll tell you why. The Power Rod Technology actually feels really smooth, and works with your muscles' natural strength curve. In other words, as you move through a repetition towards the end of the lift, your muscles get progressively stronger as the muscle contracts. An example would be bicep curls; your arm is weakest when fully straight, and strongest in full contraction.
Power rods increase the load as you move through an exercise's range, which allows a progression of strength different than free weights where the amount of weight remains constant or may actually decrease depending on your body position. In fact they work in a similar fashion to resistance bands, which as you know I'm also a fan of.
It's a simple equation; resistance train and exercise appropriately, eat healthy and you'll get in shape. I'm not detracting from the functionality of the Bowflex, it works well, feels great and is user friendly. So if you really want to purchase some at home equipment this one would definitely get my thumbs up!
The Angry Trainer says: Perfectly sane (if you actually use it!)
about 6 months ago - 1 comment
Today I'm sharing another Classic ATF post that is worth taking a look at again. Last September I posted this mat / floor routine to show all of you that a great workout can be found in many forms. In this case, I demonstrated how going through a circuit of ten exercises right in your…